By Jeff Clark, editor, S&A Short Report (Original Link)
Everything is falling in place for a big gold stock rally…
So far this year, it's been tough to make money owning gold stocks. Every rally has been weak. Every subsequent decline has been steep. The big gold stock fund, GDX, for example is down 25% over the last 12 months.
This decline has made gold stocks very cheap… and ready to rally. Let me show you what I mean…
We'll start with one of my favorite sector indicators.
The precious metals sector bullish percent index (BPGDM) generates a buy signal when it drops into oversold territory (below 30) and turns higher. Late last month, it generated a buy signal, and it has continued higher since then. Take a look…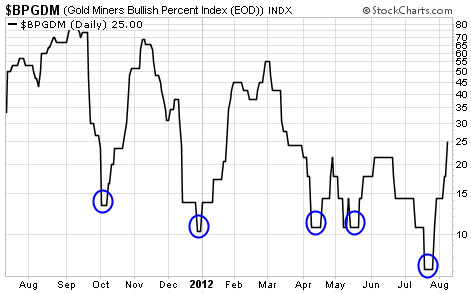 The blue circles indicate the buy signals we've seen over the past year. The signals that triggered in 2011 generated large gains for the gold sector (and for my S&A Short Reportreaders).
We haven't had the same experience in 2012. The buy signals this April and May never reached their potential. We settled for much smaller profits than I had originally anticipated. But this time, I suspect the buy signal will be stronger and carry the sector much higher.
And we have two more indicators that argue for higher gold stock prices. First, there's the following chart, which compares the action in gold stocks to the action in gold…
For most of the past year, gold stocks have lagged the action in gold. So this ratio chart has been falling. For a few weeks in May, though, gold stocks outperformed the metal. They've been outperforming for the past two weeks as well.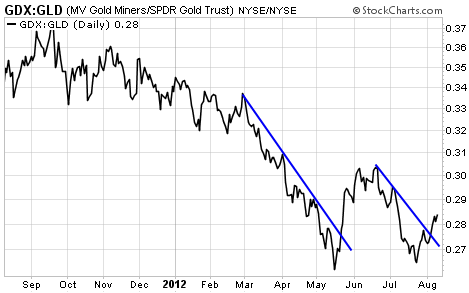 The best time to own gold stocks for the intermediate term (several months) is when the stocks are outperforming the metal. In other words, you want to own gold stocks when this chart is rising. That's the case today.
Finally, we also have this bearish development in the U.S. dollar index…
The U.S. dollar just broke down from a bearish rising-wedge pattern (the blue lines). At a minimum, the greenback should fall toward the first red support line at about 81. But there's a pretty good chance
A falling dollar is typically bullish for gold. And a rising gold price is typically a good thing for gold mining stocks.
Nothing is guaranteed. But these charts are bullish for gold stocks… and we now have a low-risk, high-reward trading opportunity in front of us.
Best regards and good trading,
Jeff Clark
P.S. Even though the gold sector is set to rally, it won't be a straight-up "rocket shot." Gold rallies are notoriously volatile, with large swings in both directions. So it's important to properly time the purchases. That's what I specialize in with the S&A Short Report. You can learn more about my trading system – and my strategy with the precious metals sector – here.
Further Reading:
"If you're bullish on gold, this is an excellent, low-risk area to buy it," Jeff told Growth Stock Wire readers last week. See how one chart pattern tipped Jeff off to a setup in gold offering 10 times more upside reward than downside risk here.
3 Great Option Trades for 2013
The 3 trades my staff just dropped on my lap are the most exciting trades I have seen in over 15 years. Each of these 3 trades has the ability to reach between 100% to 1000% in profit. Normally I would only give this to our premium subscribers, but I would like to see you profit from them. These trades have a limited shelf life, DOWNLOAD My 3 Best Trades for 2013 Today, completely free…
Click Here to Claim Your 100% FREE Copy